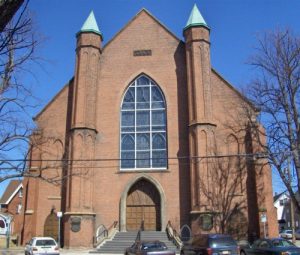 Nomination: Trinity United Church | Charlottetown, PEI
Category: Place
Nominated By: Katherine Dewar
Year Commemorated: 2017
---
Known as the "Brick Church," Trinity United Church in Charlottetown, PEI has been present as a congregation for 150 years. The congregation can trace its roots back to 1774 when Benjamin Chappell started holding Methodist meetings in his home. The first Methodist Church in Charlottetown was built in 1816 but the congregation grew to the point where a larger church was needed. Trinity United Church is one of only three public buildings present in 1864 that are still standing today. As the Fathers of Confederation walked up the street from the boats that brought them to Charlottetown for the first meeting that led to the formation of Canada as a nation, they walked by this church.
In 2014, the 150 Anniversary of that meeting that earned Charlottetown, PEI the title of the Birthplace of Canada, Trinity United Church celebrated its 150th anniversary. It seems fitting that on this, the 150th Birthday of our Nation, that this historic church is recognized for its significance to the church, the community and the country.
In 1910, a brick manse was built adjacent to the church along with a hall, Heartz Hall, to be used for church activities. In 1925, the Methodist Church became part of The United Church of Canada. By 1968 a new Trinity Hall was needed as the demand for space for programming and meetings grew. In 1955, as a memorial gift to honour soldiers from WWI, WWII and the Korean War, a Casavant Freves Pipe Organ was installed with almost 3,000 pipes.
Today, in 2017, Trinity United Church is still an active, progressive and vibrant church. Its complex and auditorium is used by dozens of community groups as well as for church activities. Its outreach to the community is significant. The adjacent Manse houses a Refugee family of 11 people. This church became an Affirming Church in 2016. The weekly church services are broadcast live via Eastlink Television and the services are posted via You Tube the day following the church service.